Companies and hacking teams providing GSM phone unlocking services are building GPU clusters to attack Nokia phones protected with the latest Sim Lock 3, or SL3, mechanism. The picture below shows what is at least a 52-GPU cluster —I count 2 graphics cards per machine— or perhaps 104 GPUs if these are dual-GPU cards. [Update 2011-01-06: Indeed, the position and number of graphics ports in the back match the dual-GPU AMD Radeon HD 5970 card.] It purportedly belongs to a team calling themselves the Griffin Team in the GSM-Forum community.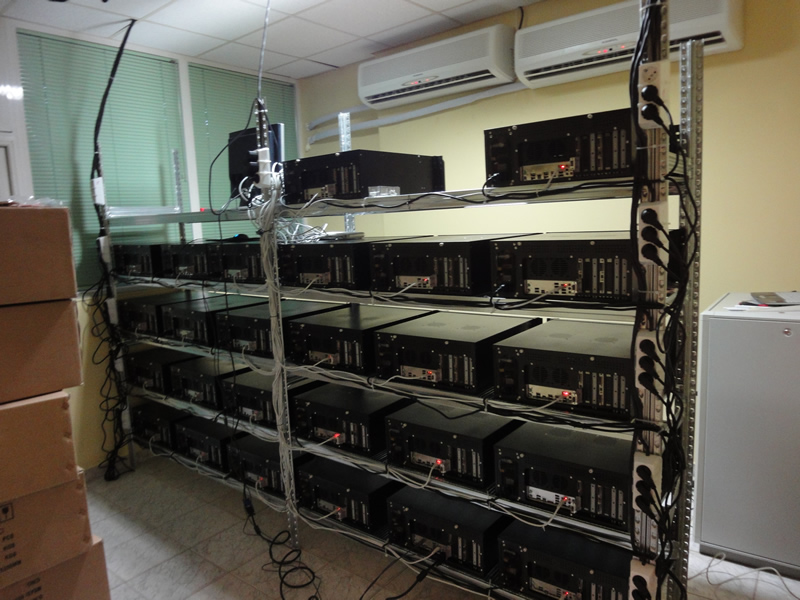 This community is all abuzz these days because until now SL3 unlocking services could only be purchased from entities running these clusters, but on December 23, 2010 another team, MX-KEY, released a GPGPU tool to accomplish this, effectively enabling individuals with high-end GPUs to unlock small numbers of phones in a matter of hours or days.
(The computing-intensive step in SL3 unlocking consists of finding a 15-digit code such as the SHA-1 hash of this code concatenated with a random number and the IMEI of the phone is equal to a known hash: SHA-1($code.$rnd.$imei) = $hash. This embarrasingly parallel task is perfectly suited to GPUs.)
But there is a twist: the MX-KEY team illegally copied Ivan Golubev's ighashgpu brute forcing tool, modified the executable in an attempt to obfuscate it, and inconspicuously integrated it in their SL3 unlocking suite! Bizarrely they decided to go the trouble of modifying a binary when they seem to have at least basic software skills that would allow them to write a simple SHA-1 brute forcing loop in OpenCL...
Even more bizarrely, when recommending hardware specs for running their tool, the MX-KEY team also copied/pasted word for word the hardware detail list that I documented when building a 4 x AMD Radeon HD 5970 machine (compare theirs and mine):
$80 - Chassis Norco RPC-170 1U
$140 - PSU Supermicro PWS-562-1H (aka Compuware CPS-5611-3A1LF) 560 Watt 80 PLUS Silver
$65 - Mobo Gigabyte GA-P31
etc
That, I do not mind. I feel more sorry for Ivan's hard work whose software license is being violated. The GSM unlocking community is both fascinating to me because of the sheer amount of hardware resources being thrown at it, but also seems rampant with piracy.