The Newegg price charts on Camelegg sum this up illustratively: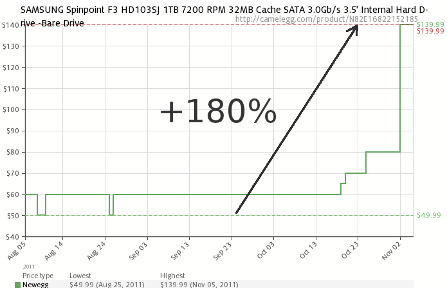 Thailand manufactures 25% of the world's hard drives, and the severe 2011 monsoon season floods affected some of its largest industrial parks, where many hard drive manufacturers and component suppliers are located, causing worldwide shortages and price increases.
Between October 15th and 21st, water penetrated the Bang Pa-in Industrial Park, the Navanakorn Industrial Park (the largest of its kind in Thailand), and the Bangkadi Industrial Park.
All of Western Digital's and Toshiba's manufacturing sites in Thailand were located in these 3 parks.
All of them have been rendered inoperable.
Seagate is relatively lucky as it is merely affected by the components shortages while none of its factories in Thailand have been inundated according to a November 3rd SEC filing. As a result, Seagate's stock is up +81% between October 6th's low of $10.1 and November 5th's high of $18.3 (disclosure: as a value investor, I hold STX —it was undervalued, and still is.)
Meanwhile, shortages have caused phenomenal hard drive price increases. Over the past month, I observed on Newegg:
1TB SATA hard drives went from $50/TB to $140/TB, +180%, almost triple the price
1.5TB from $47/TB to $93/TB, +100%
2TB from $40/TB to $72/TB, +80%
3TB from $67/TB to $87/TB, +30%
Large-scale data center operators who are currently growing very rapidly with a focus on storage must be financially impacted by the situation. I thought of Amazon Web Services and, sure enough, one of my favorite tech bloggers James Hamilton (vice president on the AWS team) wrote an insightful post entitled Serious Hard Drive Shortage Expected for at Least 2 Quarters. "Higher drive and component prices will persist into the summer months of 2012" Yikes!